How to choose your CRM?
This is a question that many of you are asking yourselves.
Whatever your activity is, a CRM is always handy.
Frequently we hear that a CRM is only for larger businesses, but the truth is that even a small business will benefit from it.
This tool will allow you to follow your customers and leads in the best possible way.
As long as you choose one that meets your needs 😎
We have listed here 5 key points when choosing the right CRM for your business.
# 1 – Know your needs
The 1st step of your research consists in listing your needs and your challenges.
A good exercise is to make a table where you will list what is important for your company.
The key points you want to have in your CRM
Their importance to you and the team.
The "family" to which they belong.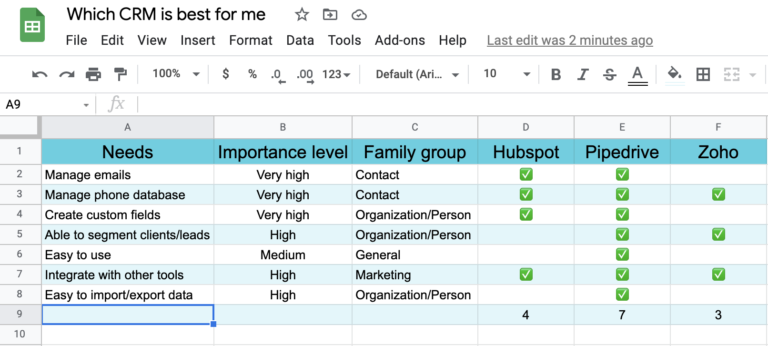 Once this is done, you can add the CRMs that interest you and check if they have the features you want.
In the long term, this table will allow you to give a "raw" score to the CRMs compared, to get a first idea of the one that could correspond to you.
# 2 Integrate your employees
Think about including your employees in the decision-making process.
Often when you decide on a CRM, you are not going to use it alone, maybe several departments involved, marketing, sales, operations etc…
Perhaps one of your employees already had a "bad or good" experience with a CRM.
And the feedback could weigh in favour or against a decision.
You should listen to their opinion, your team needs are just as important as yours in the research process.
# 3 Look around
Often it is enough to ask someone around you to get the answers you are looking for.
This can be very useful, especially if you find advice from someone you trust, who works in the same industry as you, and who could therefore share the same needs.
So, think about it. You might know someone who had similar issues before and has done some research to determine which CRM would be the best.
It would be a shame not to take advantage of it, saving you time and possibly money too.
Note also that if you do not have anyone around you in this case, many business/startup support groups may be able to answer your questions. (You may find the answers to your questions in our BLC discord channel😉)
# 4 Try it out
Don't hesitate to give it a go! Most CRMs have a trial period, so take advantage of it.
It may be that your crush on a CRM is due to its ergonomics, for example, which allows you to navigate more efficiently around it.
All points should be taken into consideration. Once again, test it, and involve your employees too, they can give you a valuable opinion and they will feel included in the process.
# 5 Check compatibility
If you already use a specific tool, or you wish to use some.
Now is the time to verify if the CRM that you choose is compatible or not.
Sometimes this compatibility will be native, sometimes not and you will have to use APIs to connect tools.
And in the worst case (it all depends on your industry), you won't be able to connect at all.
Do not hesitate to check this during the testing period.
In short, study your needs carefully, educate yourself and do not hesitate to test and discuss the CRM that interests you with others.
Eventually, you will surely find the software that suits you.
Apart from that, don't hesitate to contact us if you want to be accompanied by experts.
We will be happy to hear about your needs, and help you to select the best options and solutions for you.